From Chairperson's Desk
Dear Enlightened Parents,
I welcome you and your child to a new experience in education. An experience that will leave the both of you with a new outlook on life.
Welcome to Gyan Bharti Public School Kotdwar. An education initiative which lead to nurture a child from play group to 12th, an environment of learning that has earned a distinct reputation in Kotdwar, Pauri Garhwal , Uttarakhand. As a progressive, learning-centric, co-educational school, we are committed to creating individuals who can become a part of an evolving global environment and to further this endeavour, we have created world class infrastructure and wholesome learning and socialising environments that are innovative and enriching. Our superior Student Management Policy provides an effective framework to ensure that students are managed with respect and assisted to make informed, appropriate choices about all aspects of their school life. This philosophy enables us to assist students to be responsible, independent thinkers and fosters an environment that enables both students and facilitators to maximize their learning opportunities.
Our well experienced faculty promote learning as a process that is both challenging and responsible. We believe that education is a process that should foster creativity, independent thinking, exploration and experimentation as a life long process. All without compromising on sound ethical values.
Welcome to Gyan Bharti Public School..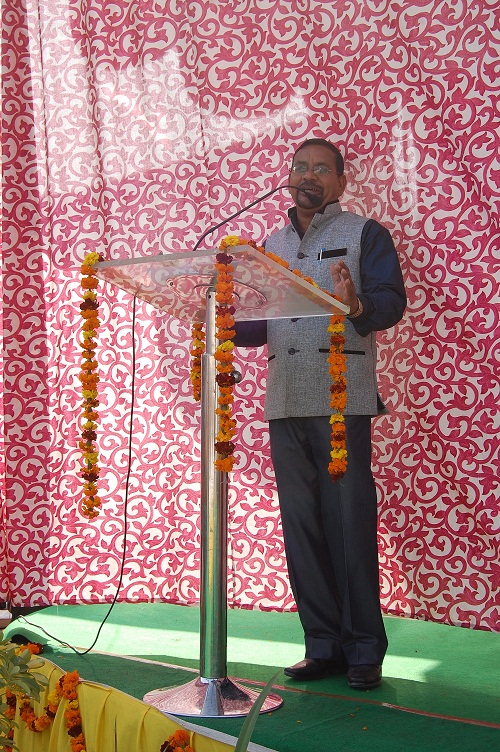 From Principal's Desk
Modern education is all about helping the child to realize and explore his potentialities and latent talents. Our children represent our hopes and dreams. As a parent, you want the best for your child and we are proud to be working with you to ensure that they are given the right knowledge to face future challenges.
Parents, students and the school authorities are a team and complement each other's efforts. Education is not just a process of giving knowledge for a future job but a lifelong process which creates an understanding of moral and ethical values to guide one's life and make our students the future hope of the country.
At Gyan Bharti Public School, we hope to create an atmosphere of reverence for education and a healthy environment where work, sports and co-curricular activities will mould our students and spur them on to be the brightest and the best. Respect for one's elders, especially the teachers and a commitment to discipline are engraved in Indian culture. Let us inculcate these ideals in our younger generation.
A student who is taught discipline will learn the power of self-control. To be successful, we need self-discipline which teaches us to sacrifice individual interest in favour of group interest.
Fit India

Kabaddi Game

Fit India

Kho-Kho game

Fit India

March-Past

Fit India

Musical Chair

Fit India

Tug of War

Fit India

Volley Ball

Fit India

Yoga